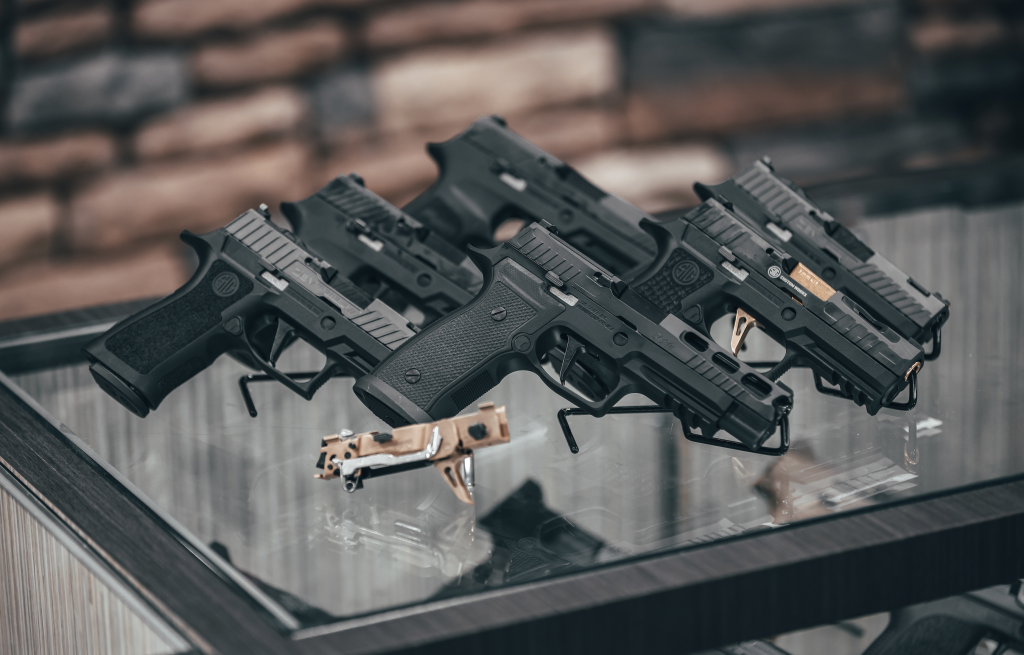 One of the fastest growing platforms lately has for sure been the Sig P320. The modularity of the firearm and how easy it is to go from a full size firearms to literally any other possible combination is crazy. In less than a few minutes you can have a full size USPSA competition legal firearms to a compact conceal carry gun with a simple frame swap.
Sig has been putting out their own custom shop and cut slides. Barrels with different finishes and threaded and fluted barrels as well. Lots of new frames and comps and just overall the market for accessories is blowing up. They launched their P320 builder on the website. If you buy a chassis from a dealer like us and get the FCU, it comes with a 10% off coupon for anything you buy through their builder section of the website. The builder lets you select from any slide they have in stock and it generates a real time image of the gun you would be building if you had the parts right in front of you. It allows you to see what a specific slide and optic would look like on the frame you were thinking about using. Its a super cool program and I wish every company had their own version of it.
Right now we have a bunch of different P320s in stock because they keep releasing different builds and models with all the random parts they have. The good thing is the prices are hard to beat on them. The newest one we got is the Spectre P320 with a Tin Barrel and hand stippled frame. Usually by the time you bought a factory gun, added a TiN barrel and paid somebody to stipple your frame, send your slide off for machine work and you would be well over $1200. The new models Sig has been dropping have been coming in at $1100 and you don't have to deal with any wait times or worrying about losing parts in shipping or any of that hassle.
While we have a bunch of the cool models in, we also right now have in a few of the base guns. So if you wanted to try the platform for yourself and test the modularity between parts, you don't have to drop a grand. You can pick one up for the normal price and have the same fun at a slower pace. Either way, head to the website and check out the handgun page for yourself. Theres a ton there and lots of great deals!