Calling all firearm enthusiasts and Second Amendment supporters! Aim Surplus, your favorite gun shop, is thrilled to announce an extraordinary event that is sure to ignite your passion for firearms and gear. Prepare yourself for an unforgettable experience as we bring together renowned vendors, mouthwatering food, irresistible discounts, and a vibrant community of like-minded individuals. Get ready for an event that will leave you buzzing with excitement. AIM DAY 2023!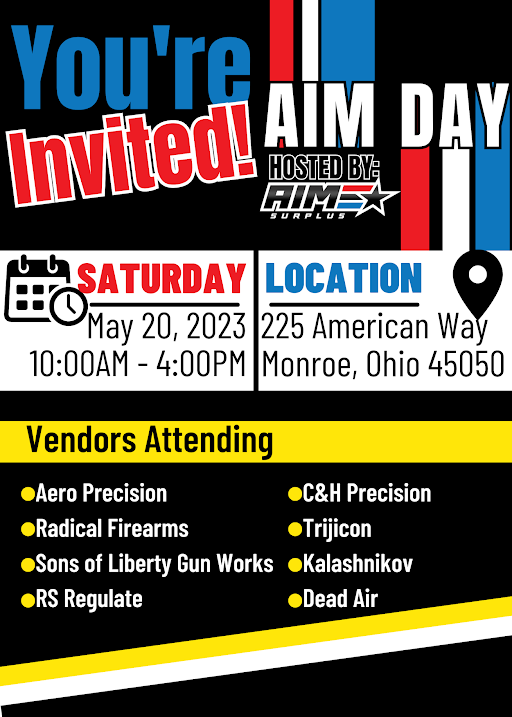 At Aim Surplus, we believe in offering only the best to our customers. That's why we have carefully curated a lineup of eight outstanding companies that share our commitment to excellence. Brace yourself as you encounter a remarkable display of cutting-edge products and innovations from industry-leading vendors. Let's take a closer look at the incredible lineup:
AERO Precision: Discover precision-engineered components and accessories that will enhance your shooting experience to a whole new level.

Radical Firearms: Immerse yourself in the world of tactical firearms with Radical Firearms' outstanding range of rifles and accessories.

Sons of Liberty Gun Works: Experience the craftsmanship and reliability of SOLGW meticulously built firearms.

RS Regulate: Explore the world of versatile and robust optic mounts and firearm accessories meticulously designed by RS Regulate.

C&H Precision: Find out how C&H Precision's innovative solutions can help you achieve enhanced accuracy and precision.

Trijicon: Get a firsthand look at Trijicon's cutting-edge optics and sighting systems trusted by professionals worldwide.

Kalashnikov USA: Indulge in the legendary heritage of Kalashnikov with their exceptional firearms and accessories.

Dead Air Suppressors: Learn about the latest advancements in sound suppression technology with Dead Air Suppressors' exceptional product range.
Outside of the awesome lineup of vendors you can expect:
Exclusive Discounts: Take advantage of special event pricing on a wide selection of firearms, accessories, and gear. It's the perfect opportunity to expand your collection or upgrade your existing setup.

Expert Advice: Engage in insightful conversations with industry experts and representatives from the exhibiting companies. Gain valuable knowledge, ask questions, and stay up-to-date with the latest trends in the firearms world.

Free Food: Nuff said!

Networking and Community: Connect with fellow firearms enthusiasts, share experiences, and foster new friendships. The event will be a hub of like-minded individuals passionate about firearms, making it an ideal environment for networking.

Raffles and Prizes: Participate in exciting raffles and stand a chance to win fantastic prizes generously provided by our exhibitors.

Don't miss out on this event, you will regret it! Mark your calendars, spread the word, and get ready for an unforgettable day at Aim Surplus.