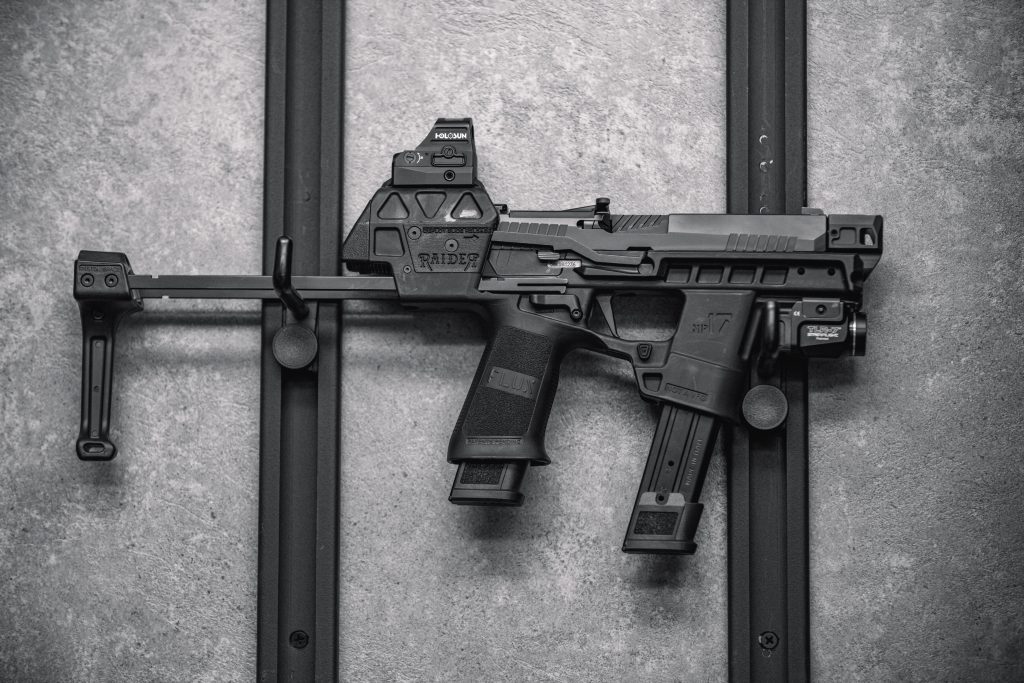 The Sig P320 is slowly becoming more and more popular of a platform for people to pick up and start exploring with. I've talked a ton about how I was sort of let down with the platform and the fact that the modularity aspect of it was not being taken advantage of from anyone in the industry. You had some random shops that were selling stippled and cerakoted frames. You have high end custom shops making aftermarket slides. That's really it though. There was not much else going on for it.
Then almost out of nowhere, the Flux Raider dropped into the market and turned the P320 platform into something besides just another handgun in a very saturated market. The Flux raider takes your standard drop in FCU from your P320. You add your slide and toss on an optic onto the pic rail at the top. Then you're done. You now have a PCC platform that fits into a bag and in some instances, can even be holstered.
It has the ability to hold 2 magazines, a red dot mount that doesn't move, a brace that retracts and shoots out to the correct position upon deployment. It gives you that 3rd contact point to take more stable and accurate shots. Lets also not forget, the whole thing is DAMN sexy. It just looks like something you could see the CIA or a Spy in a movie wearing around in a jacket. This is the kind of modularity I always wanted to see for the P320 platform and I think its still not done. They are making updates and adding features to the Flux on a regular basis. I think we will see more and more models added and I think eventually we will see other companies trying to compete with it.
This is definitely one of the competition breeds greatness kind of things and I think its spectacular for those of us that are on the P320 bandwagon already and have been for a long time. While right now we don't carry the FLUX because he cannot keep up with the demand. We WANT to. It is a product we like and can get behind and I want more people to start competing against it. I wanna see what else comes from a simple idea to a great product. It doesn't hurt to let FLUX Defense know that you want us to carry this thing too. If you tell them over and over again you want us to be a dealer for the FLUX, when the time comes. We might get first dibs. Which only Helps you guys! Let us know if you've got one or had time behind one.