Here is a cool writeup about building a Glock19-style setup using some AIM branded parts and parts we sell to complete the build.
https://www.americanrifleman.org/content/building-a-g19-pattern-pistol-with-aim-surplus/
It also includes exactly what parts they used and a price breakdown, which will obviously change with sales and deals. But for the most part, you can build a custom 17/19 pattern pistol with a red dot or red dot ready sub $750
There are actually a couple ways to do this. Let's start with the easiest way: The AimSurplus Custom Glock 17 Complete Pistol. Personally, I think this is the best value.
This Glock started its life as a police trade-in Glock 22.
It has had a ton of new features added to it. Let's start with the awesome new laser stipple job. Our "White Noise" pattern is extremely grippy and comfortable in the hand where most laster stipples are not. The frame now sports a double undercut to get your hand a little higher on the frame and give your support hand a reference point, along with thumb pads on both sides.
Also installed is our Aluminum Red and Black trigger, and a Shadow Connector. The AimSurplus Camo Cerakoted slide features an RMR cut with our Suppressor Height Fiber Optic Sights. A fiber optic front and a blacked-out rear.
The barrel is a polished stainless barrel to give you a smooth cycle and as much added accuracy as possible. The pistol comes with 1 Magazine and ships with a nice Savior Equipment Soft case.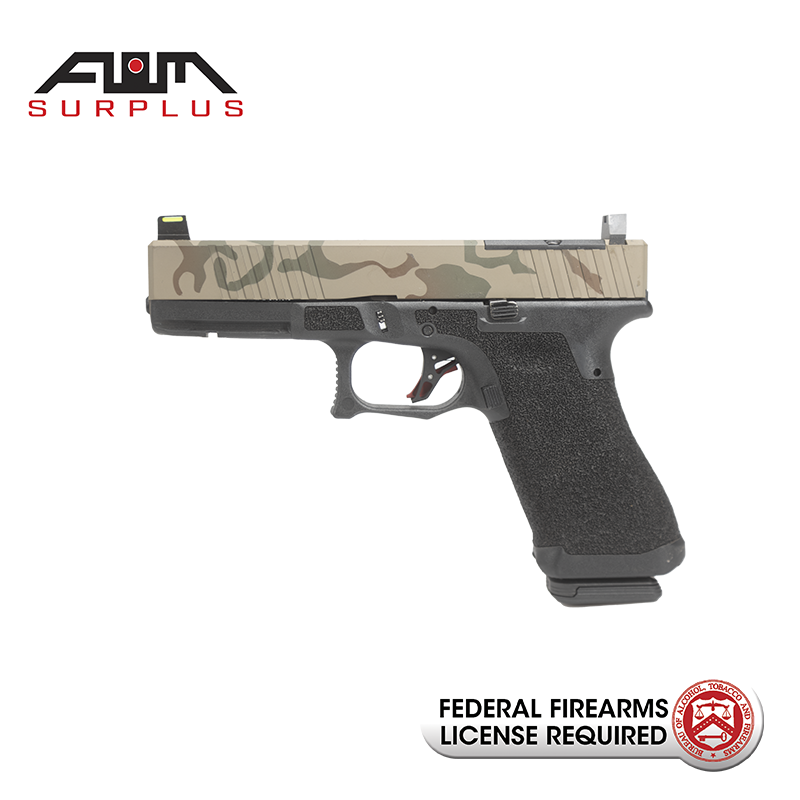 All of this and a pistol case for $649, you cannot beat that. All that is missing is choosing your RMR pattern Red Dot, even if you pick an SRO or RMR, still cheaper than a factory option and then adding a dot.
Option 2.
GREY GHOST PRECISION COMPACT PISTOL FRAME – BLACK F1GGPCPBLK: $162.79
AIMSURPLUS COPPER 9MM BARREL FOR GLOCK 19 XAIMGB19COPPER: $59.95
AIMSURPLUS 2S DLC SLIDE FOR GLOCK 19 GEN 3 XAIMGS19G3DLCRMR : $139.95
AIMSURPLUS BLACK/GOLD FOR GLOCK GEN 1-4  XAIMGG3TBG: $49.95
AIMSURPLUS PLASTIC SIGHTS FOR GLOCK XAIMGSTDP: $8.95
AIMSURPLUS SLIDE COMPLETION KIT FOR GLOCK 19/23 XAIMGG3SPK19: $39.95
AIMSURPLUS LOWER PARTS KIT FOR GLOCK 19/17 GEN 1-4 XAIMGG3LPK: $39.95
MAGPUL GL9 PMAG 15RD MAGAZINE FOR GLOCK 19 MMAG550 : $14.20
SWAMPFOX LIBERTY RMR 1X22 RED DOT 3 MOA XSFLBT001223 : $209.00
Total: $724.69
Factory Glock 19 Gen 3: $499.99
Swapfox: $209.00
Optic Cut: $150-250 plus 6-8 week lead time
Glock 19 MOS: $599.95
Plenty of options to get your build on! Go check them out!
-Cano