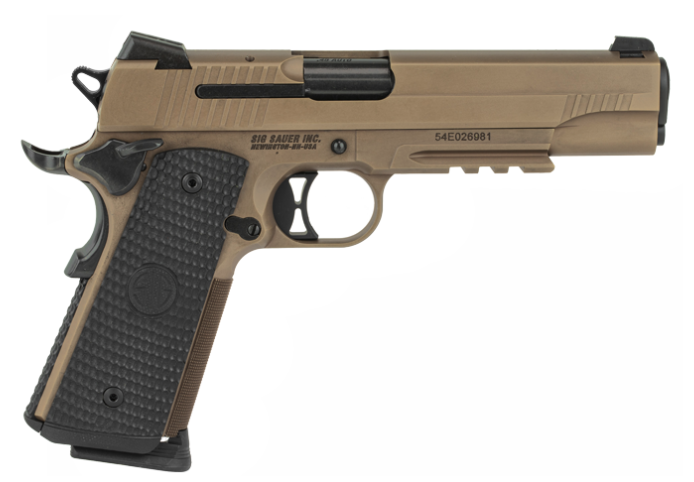 When it comes to firearms, enthusiasts and professionals alike seek the perfect balance between aesthetics, reliability, and performance. The Sig Sauer Emperor Scorpion, a variant of the iconic 1911 platform, has captured the attention of many gun aficionados with its striking appearance and top-notch features.
The Emperor Scorpion boasts a distinctive design that sets it apart from standard 1911 pistols. With its flat dark earth (FDE) finish and black Hogue G10 Piranha grips, it exudes a rugged elegance that appeals to both tactical operators and enthusiasts looking for a visually striking firearm. The design choices not only enhance the overall appearance but also improve grip and handling during shooting. As with any Sig Sauer firearm, the Emperor Scorpion exemplifies excellent build quality and durability. Its stainless steel frame and slide ensure robustness and longevity, making it a reliable companion for years to come.
Sig Sauer has equipped the Emperor Scorpion with several enhanced features to improve performance and user experience. The extended beavertail grip safety allows for a higher grip, reducing felt recoil and improving control. Additionally, the crisp and short reset trigger ensures quick follow-up shots and enhances overall accuracy. One of the greatest advantages of the 1911 platform, including the Emperor Scorpion, is its adaptability. The Picatinny rail beneath the frame allows for easy attachment of accessories like lights or lasers, enabling users to tailor the firearm to their specific needs. Whether for self-defense, home protection, or competitive shooting, the firearm proves to be a versatile tool. The 1911-style trigger, known for its clean break and smooth pull, enhances accuracy and control. Combined with the exceptional ergonomics and the classic single-action operation, it provides a rewarding shooting experience that keeps drawing enthusiasts back to the range.
The Emperor Scorpion is a stunning blend of aesthetics, craftsmanship, and performance. Whether you're a dedicated 1911 enthusiast or simply looking for a reliable and stylish sidearm, the Emperor Scorpion stands tall among its competitors. Its robust build, versatile features, and legendary Sig Sauer quality make it a desirable addition to any gun collection.
https://aimsurplus.com/products/sig-sauer-emperor-scorpion-1911-45acp-handgun?c=BL08172023