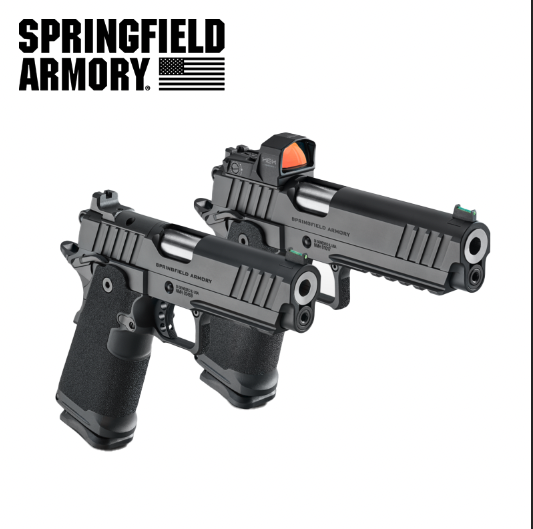 The Prodigy from Springfield Armory takes the proven 1911 platform and enhances it with double-stack capacity and a performance-driven feature set. Reconfigured around a double-stack magazine, the Prodigy's polymer grip module mounts to its forged steel frame offering capacities of 17+1 and 20+1. Optics ready with ambidextrous safety and Picatinny rail, the Prodigy combines the most beloved characteristics of 1911 with modern capacity for unrivaled performance.
The Prodigy is a full-sized, striker-fired, polymer-framed handgun that is chambered in 9mm. It features a 4.25″ or 5″barrel, making it a great option for those who want a larger handgun for range use or competition shooting.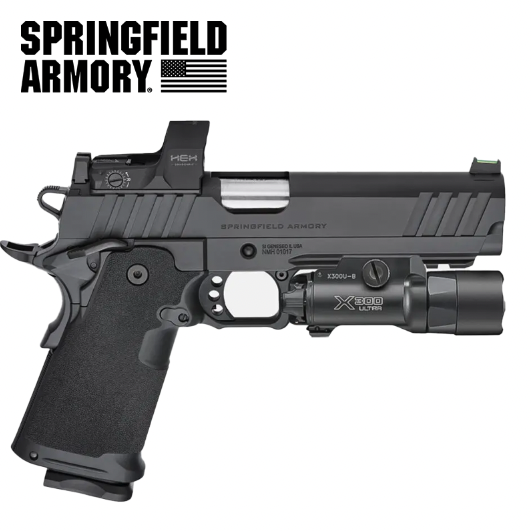 One of the standout features of the Prodigy is its grip texture. The gun features a proprietary grip texture that provides excellent traction and control, even in wet or slippery conditions. The grip texture is also designed to be comfortable to hold for extended periods, making the Prodigy a great option for those who want to spend long hours at the range.
The Prodigy also features an adjustable rear sight, which allows the shooter to fine-tune their aim for greater accuracy, or the AOS System for Red Dot options. Developed in collaboration with Agency Arms, the Prodigy employs AOS (Agency Optic System) plates designed exclusively for the 1911 DS. Machined from billet steel, each plate is designed specifically to deliver proper optic height for intuitive sight picture and instant target acquisition and features an integral rear sight. The Prodigy ships with a HEX Dragonfly compatible plate, while additional optic-specific plates are available for purchase through Springfield. The gun also has a Picatinny rail, which allows for the attachment of lights, lasers, or other accessories.
One of the other standout features of the Prodigy is its trigger. The gun has a smooth, consistent trigger pull that makes it easy to shoot accurately. The trigger also has a short reset, which allows for faster follow-up shots.
Overall, the Springfield Armory Prodigy is an excellent option for those who want a larger handgun for range use or competition shooting. Its grip texture, adjustable rear sight with a red dot option, and smooth trigger make it a joy to shoot, and its overall build quality ensures that it will last for years to come.