This weekend I was fortunate enough to take a two-day class with Gabe White. You may not know the name but I am willing to bet your favorite shooter knows precisely who he is. Gabe is a wizard, he does not look like a tactical bro or your average gun guy at all. The amount of information and knowledge he has to share is mindblowing. He doesn't just have the info and explain it, he can back it all up with his shooting….on an iron sight Glock! Yes, I said iron sights.
Gabe is not just your average instructor who just trains people who want to get better. He is actually the current Chief Instructor of Public Range FTU and public defensive handgun training program for Clackamas County Sheriff's Office at the Public Safety Training Center in Clackamas, Oregon. Gabe is also an incredible shooter. Some of his accomplishments are:
Master class in USPSA Limited Division shooting carry gear from concealment
Master class in GSSF
FAST Challenge Coinholder #09
One of only four people worldwide to clean the Rogers Shooting School Test
Only person worldwide to clean the Rogers Shooting School Test from concealment
LFI Judicious Use of Deadly Force Instructor
NRA-certified Pistol Instructor
Over 800 hours of formal defensive handgun and emergency training as a student
Defensive handgun practitioner since 1999
Defensive handgun instructor since 2007
Insane resume from a guy you would never expect to be THAT guy and I love it.
His class is probably the most valuable you can get in any class. 8am to 6:30pm no lunch break, constant information and knowledge but not overwhelming. He takes time to work with you individually where you need it and answers any and every question.
Day 1 was a lot of the standard stuff you will see at most classes. Grip, Sights, Trigger. A good amount of training before you start the fun stuff and run his performance tests for the almighty Turbo Pin. You run two tests on day one and two on day two. Day one tests are a bill drill and failure to stop. Day two is immediate incapacitation and a split bill drill. Very doable tests for your average shooter if you are locked in and shooting well. This was not the case for a lot of the better shooters in the class, I will throw myself in that category. I felt off the whole day, it was hot and I was drained mentally by the end of the day when we started the tests. I also was just not feeling it, didn't really wanna shoot.
The Bill Drill. Normally I can run it clean sub 2 seconds no problem, usually, 1.8 -1.99, right around there with the occasional over 2 second time. This day was just rough. I ran 1.92 with charlie which pushed my time over the turbo pin time, second run I had a horrible grip and ran 2.33 clean. The biggest issue I am having aside from my grip and desire to shoot: the timer. I am reacting way too late and it's not our normal stand by one second goes by the beep. He has it set to random, I cannot game this.
After Stage 1: 1 light run, 1 dark run
Stage 2 is the 2 to the chest and 1 to the head.
My hands were shot, and my grip strength was nonexistent but I was ready to just get it done. I didn't take any of the practice reps to keep my hands rested. 1.71 with a shot outside the circle so no pin there and 1.72 clean. Had I not missed that one shot I would have 3 Light runs on Day one. No turbo times. Not a complete failure of where I wanted to be but close. I know I can run them all for time, now I just had to do it perfectly the next day 4 times in a row.
After Stage 2: 1 dark run, 2 light runs
Day two was wet and windy for a little which ended up working in my favor, we moved the tests up sooner so we would avoid the potential lighting storm. First up were the 2 headshots.
This one should be harder but I have always found this to be the easiest one, 1.71 and 1.78 clean but felt like it took forever. Two Turbo times to start the day. Now I had pressure to run the last drill and get my turbo pin.
After Stage 3: 1 dark run, 2 light runs, 2 turbo runs. Light Pin acquired.
The last and final stage. The split bill drill., 4 to the body and 2 to the head. I always mess this one up because we always do the 3-2 so that extra shot to the body makes me think.

First, run, I did not love my draw so I knew I had to run fast splits to make up the time.
2.14 clean, I was shocked I thought I for sure went over the minimum 2.6
Now the pressure was on, all I needed to do was draw clean and shoot it.
I got anxious and almost jumped the beep, threw my first shot, and confirmed it for what felt like forever before finishing the drill. I missed a turbo pin by one inch and that penalty cost me to go over time by .10
Instantly pissed at myself because I had it and dropped the first shot. Oh well, you live and you learn. Gabe was happy with my recovery and overall performance so even though I came up short, I know I can get it.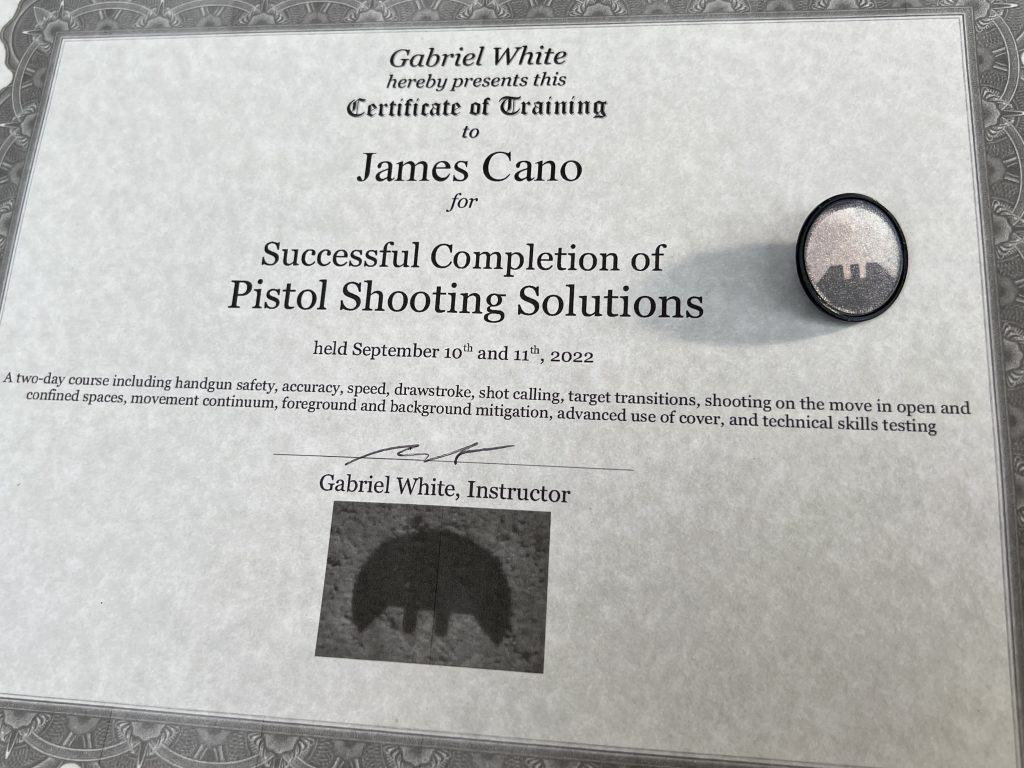 The class was a ton of fun, a ton of learning, and some good competition which the two guys from AIM cleaned up on. Both of us from AIM won competitions and both of us got light pins. Not a bad weekend for the boys.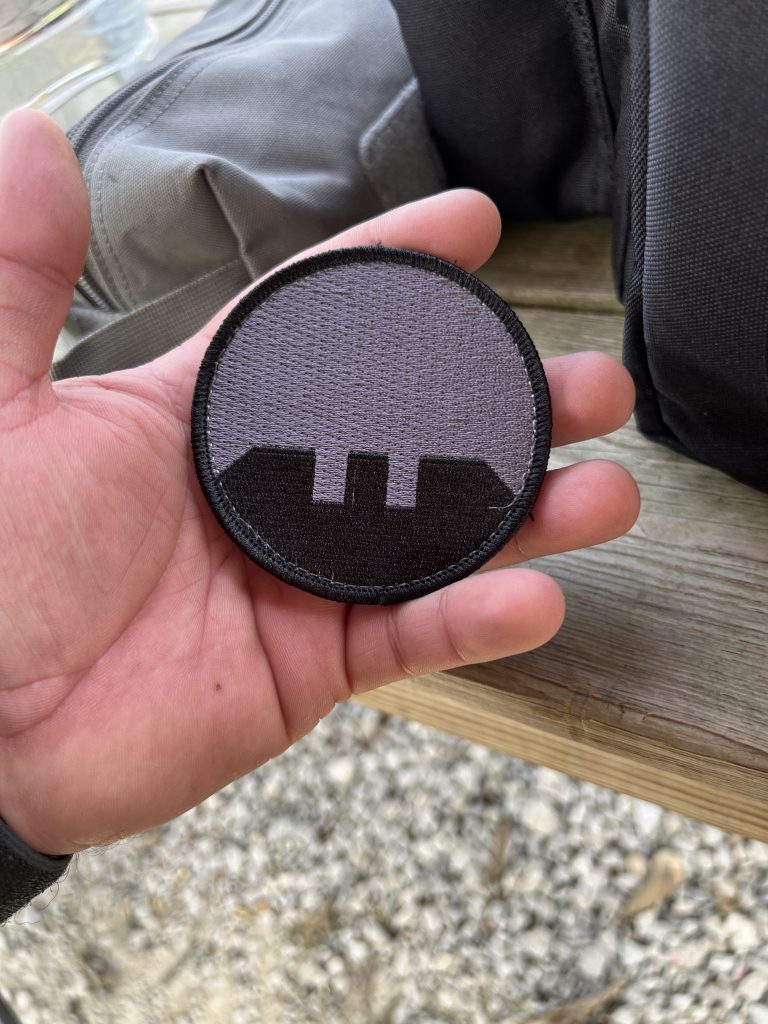 Gabe teaches an awesome class, I think right after pistol 2 or whatever a more advanced pistol class is, once you are really comfortable shooting and have a solid draw this is the class to take first. Take this and absorb everything you can, pick his brain, and get dialed in. I personally think this is the best class to take after the basics. Once you have this class, then take a Modern Samurai Class and when you are feeling really solid, take some classes with Donovan at Point 1 Tactics.
Gabe is a great instructor with just an endless amount of knowledge from beginning to end, from grip to trigger manipulation all the way into the more advanced day two barrier use and defensive-based shooting. Just a great time and a great value, you truly get your money's worth in his class, and the most important part, you leave a better shooter than when you arrived. Take this class!